i see you when you see me (2023)

video work
3 min 42 secs
i see you when you see me (2023)
is a tender exploration of archival home video and personal iPhone footage. This video work attempts to create dialogue between my mother and I through the weaving of cuts the reciprocal act of the recording and preserving memory through the archival hand of the "artist" behind the camera. Working on this piece made me realize how similar I am to my mother, and it lets me see her the way she sees me.
Screenings:
2023
Maternal Instinct - The Polygon Art Gallery
mourning orange (2022)
video work
2 min 56 secs
mourning orange
is a multi-frame, multi-fragmented video work that meditates on grief and reinterprets the semiotics of the orange within diaspora Chinese-Canadian culture and domestic space. This video work was made possible through The Lind Prize Filmmaking Workshop with the support of The Polygon Gallery and The Cinematheq ue. Thank you for your support.
Screenings:2023
Liquidation World
2022
Eastside Culture Crawl
2022
Polygon Gallery
motherland 母懷之地 (2021) - password available upon request
short film
12 mins 13 secs
A grieving boy moves across the liminal spaces of his memory to connect with someone he's lost. Through this act, he must confront the tension and trauma within his body to find solace.
motherland
母懷之地 (2021)
is an experimental movement film generously commissionsed and supported by
F.O.R.M
(The Festival of Recorded Movement) in Vancouver, Canada. It premiered virtually on Sept 17 2021 at
F.O.R.M
.
Special thanks to Sarah Wong, Joshua Lam, Shiun Okada, Veron Xio, Sophia Wolfe, and Tamar Tabori.
CREDITS
Writer, Director, Producer, Performer, Editor: Alger Ji-Liang
Director, Producer, Editor, Craft Services: Joshua Lam
Choreographer, Behind-the-Scenes Videographer: Sarah Wong
Director of Photography, VFX: Shiun Okada
Background Performers: James Albers, Suyu He, Hubey Razon, Martin Yeo, Ophelia Zhao, Alexander Yeung
1st Assistant Camera: Rachel Chen
2nd Assistant Camera: Kasra Asad
Grip / LX, On-Location Sound: Osmar Wong
Behind-the-Scenes Photographers: Hubey Razon, Gloria Wong
Production Assistant: Michelle Strauss
Production Gear: Sam Lin, Rachel Chen, Brian Cheung, Sam Lin, Shiun Okada
Sound Designer, Music Composer: Veron Xio
Colourist: Patrick Gong
Editing Supervisor: Ian Tan
Foley Artist, Music Supervisor: Alger Ji-Liang
Music: motherland; written and produced by Veron Xio; courtesy of the artist
Music: Unconditional; produced by DJ Houseplants; courtesy of the artist
Rehearsal Studio Space sponsored by Gold Saucer
Production Gear sponsored by Cineworks
Mentors: Nancy Lee, Ying Wang
Translation editors: Aydin Quach, David Ezra Wang
Screenings:2023
IMAGES Festival
2022
Vancouver Asian Film Festival
2022
SFU ArtsLive
2021
F.O.R.M (Festival of Recorded Movement) - Artistic Committee Award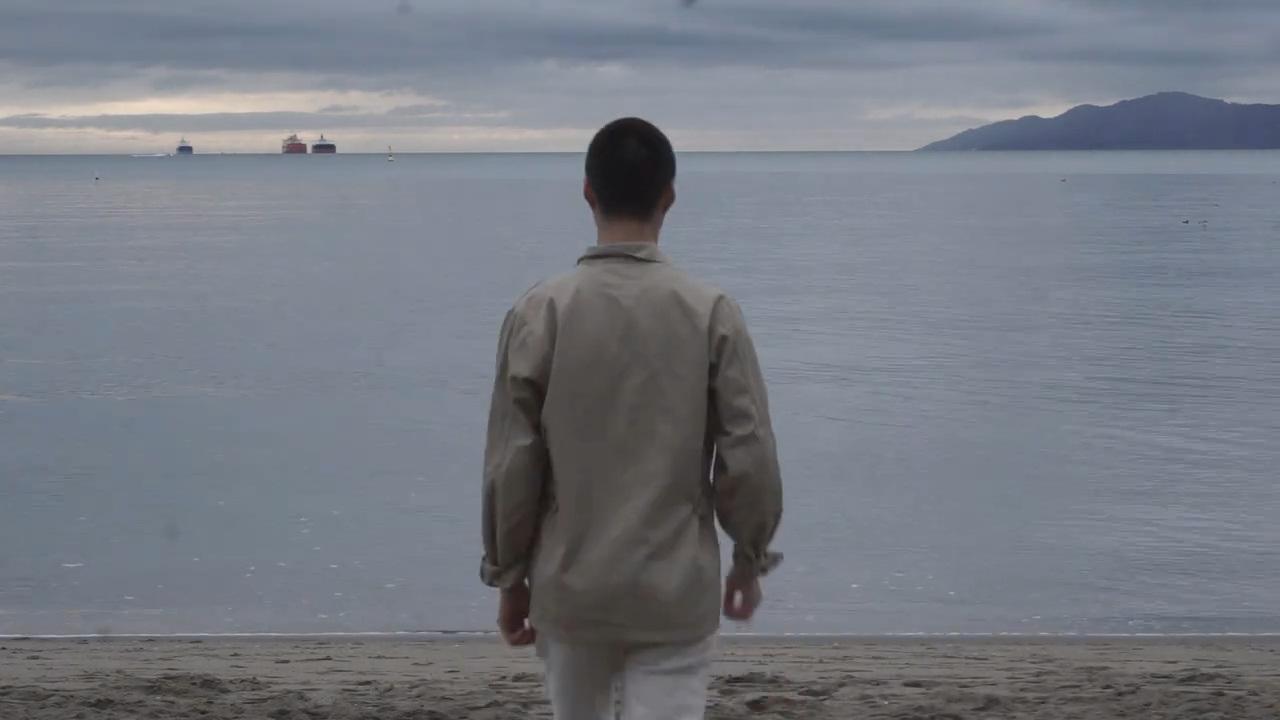 my pain is our song (2021)
video, documented performance
6 min 20 secs
When the body is broken and continues to walk without pause, it mourns for stillness. The body is a vessel that remembers.
my pain is our song
is a documented performance video work exploring memory and hidden scores of trauma in the body through repeated acts of cold water exposure. This site specific work is a response to grief and the subject's innate connectedness to the water, and to bodily discomfort to remember his body.
Screenings:

2021
Health Initiative for Men - Summit Conference
2021
Errance, UBC Graduating Exhibition

2023
XINEMA (VIFF Studio Theatre)
Collections:2021
Quarantine Qapsule (Digital Archives): Emily Carr University of Art and Design, Mysuem Toronto
Press:
2023
- the CiTr
February/March 2023
Issue
https://www.citr.ca/discorder/february-march-2023/my-pain-is-our-song/
at the table (2020)

multi-frame video
4 mins 35 secs
at the table
is a multi-frame video installation exploring the semiotics of the dinner table in the cultural domestic space. Drawing from Sara Ahmed's theorization of objecthood, orientations, and the performance of the family unit, the piece exhibits family dining occasions. Through video fragmentation and sound application, the work bleeds in and out visually and auditorily to animate feelings inside and outside of the frame - a juxtaposition between ease and tension, tenderness and rage. Divided into 6 frames, the dinners are cropped to create a binary across the table. Interior and exterior sound is used to emote the passive-aggressiveness of the domestic dinner.